Nor-Lea Hospital District
1600 N. Main • Lovington, NM 88260
United States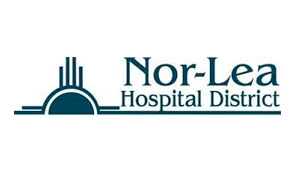 "UNITED IN SERVICE. TRUSTED FOR LIFE."
United in Service represents the pride that Nor-Lea physicians and staff exhibit in our work as well as the dedication to providing the best patient experience. it also speaks to the stability of the organization, that we are all united in the same vision.
Trusted for Life shows that patients in the Lovington area recognize Nor-Lea as a leader in health care, from our service lines to technology and facilities. It touches upon trust, which research shows is the number one indicator of how patients choose their health care provider. And finally, it emphasizes that Nor-Lea is all about life, not only by restoring health, but also by forming a lifelong relationship with our patients and the community.
Values
Our #1 priority is and always will be our patients
Built on the values of servanthood
Quality staff committed to excellence